For the third year in a row we successfully got through to the Crufts Freestyle finals and we had a wonderful time.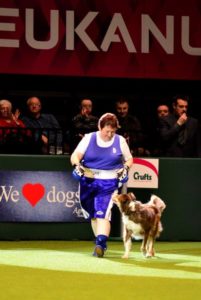 Coming up with new routine ideas and themes become challenging every year.  However this year we chose a humourous boxing theme.  The music we chose was a combination of 'Eye of the Tiger' by Survivor plus "Tubthumping" by Chumbawumba.  We also added a little voice over and sound effects to add to the story.
We were delighted for the third year in a row to come Runner Up.  Tyler performed brilliantly and he seems to thrive in the main arena environment.  It is an environment that is unique and unlike any other competition we compete in throughout the year.  It is the only time the Tyler experiences a TV camera moving up and down as well as a big screen above his head with moving images on.  This can make it challenging to prepare the dog for.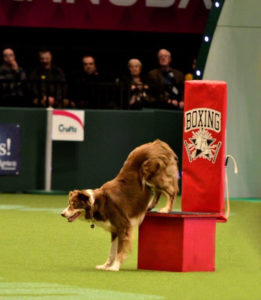 We were also very lucky to have many of our friends in the audience who made sure we had a warm welcome.  They surprised me by holding up a large Paw Performance banner in the audience.  It was wonderful to have such great support.  THANK YOU! 🙂