I wanted to a personal THANK YOU to Gwen Bailey and the Puppy School for supporting the Heelwork To Music GB Team by being one of our Major Sponsors.
I am proud to say that both my Border Collie, Tyler and Archie my Pyrenean Sheepdog are Puppy School graduates.  Taking my dogs to puppy school classes gave them the great foundation they needed in a positive and fun environment.
The Puppy School is a UK network of training classes for young puppies.   Puppy School tutors come from a wide variety of backgrounds, but all are carefully selected and monitored. These professional tutors make the classes stimulating and fun for owners and puppies.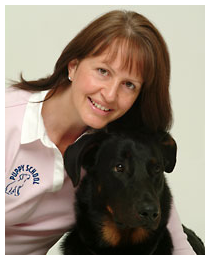 Founder and Director of the Puppy School, Gwen Bailey
Gwen's experience working amongst other things as Head of Animal Behaviour for one of the largest animal welfare charities for many years inspired her to set up the Puppy School.
She saw in this work that many behaviour issues could lead to young dogs being rehomed. She felt the key to avoiding undesirable behaviour was to educate and support new owners during the early stages of puppy-hood and provide them with a strong foundation for the future.
To find out more about how you can give your puppy the best start, locate a trainer or learn how to become a Puppy School tutor go to www.puppyschool.co.uk